Flow Chart
Where should I start?

Let's make your STUDY in JAPAN plan
TIPS: Schedule
Have you planned your studies in Japan plan yet?
Next, let's look at the following general timetable and see what sort of preparations you'll have to make.
From planning to enrollment - what to do
If you are only interested in studying the Japanese language

If you want to enter university or a professional training college after studying the Japanese language

If you want to enter a university or professional training college in Japan directly from your own country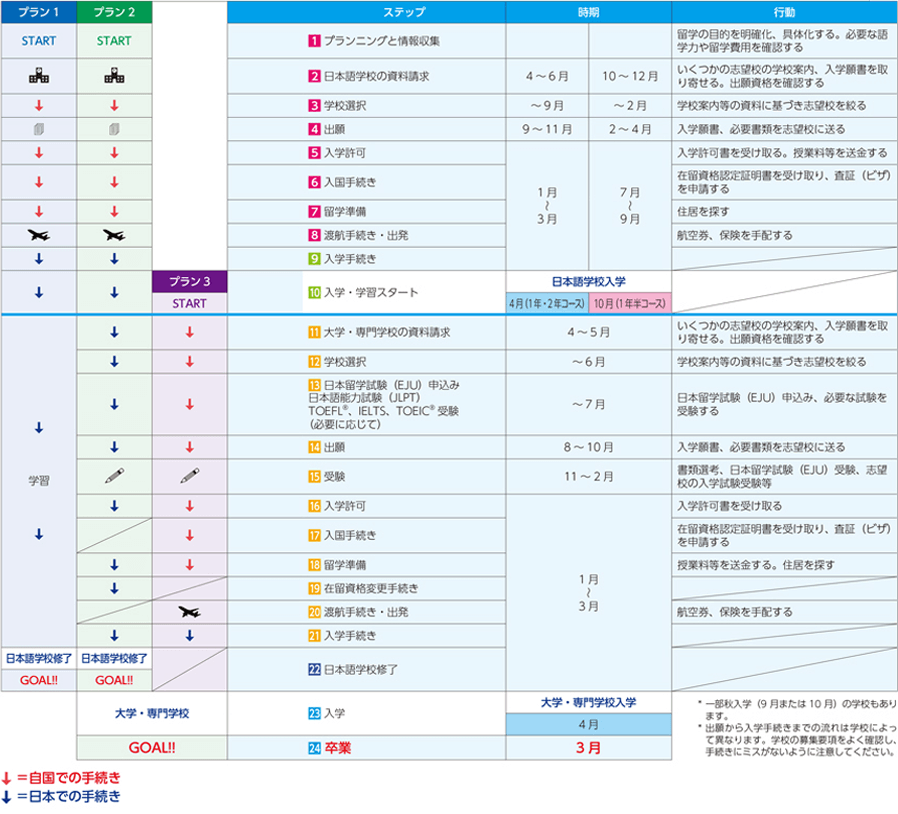 Making your own preparations to study in Japan has many merits. In addition to being economical, it helps you gain the ability to make decisions by yourself and improves your language skills. If you are a busy person or are unsure of your Japanese abilities, however, using an agent to arrange your study in Japan is also an option.
Key points for choosing an agent
Cost Is the price reasonable in comparison with other agents? Is the agent misleading you to take a part-time job in Japan to pay for all of your school fees and living expenses? Are fee details and service content stated clearly in the contract?
Support Is the agent providing you with information about schools that match your goals for studying in Japan? Is the agent recommending that you enter the country with false documents? Does the agent properly answer questions and provide proper answers if asked about procedures? Isn't the agent rushing you to make an application? Is the agent telling you both about the good points of studying in Japan as well as things you might find difficult?
Track record Does the agent have a proven track record of sending people to Japan?