College Guidance Fairs for International Students 2019
Updated April 26, 2019
1. Objective
This fair is designed for international students who are currently enrolled in Japanese language institutions and are planning to enter universities (including graduate schools), junior colleges, technical colleges and vocational schools (postsecondary course) and the like (hereafter referred to as "universities, etc."). With the participation of schools in Japan, this fair provides up-to-date, accurate information about Japanese higher education and research in order to help students select an appropriate school.
2. Venue and Dates
(1) Tokyo
Saturday, July 6, 2019 10:00 - 16:00
Event Hall D, Ikebukuro Sunshine City
(3-1, Higashi-ikebukuro, Toshima-ku, Tokyo)
(2) Osaka
Saturday, July 13, 2019 10:00 - 16:00
Aura Hall, Stella Hall, Umeda Sky Building
(1-1-88, Oyodonaka, Kita-ku, Osaka)
3. Target
International students who wish to study in Japanese language institutions, etc.
4. Organizer
Japan Student Services Organization (JASSO)
5. Program
(1) Exhibitors Booths
Each exhibitor will set up individual booths to publicize and provide information by displaying posters, pennants, school flags, etc. and distributing pamphlets introducing the school, application guidelines, research project handbooks, etc., as well as to provide individual consultations on educational content, entrance examinations, and other characteristics of each exhibitor.
(2) General Consultation Section (including special space for graduate school consultation)
JASSO and related organizations provide advising on college selection, visa requirements, university admission requirements, and other areas.
(3) Examination for Japanese University Admission for International Students (EJU) Section
Information provision on EJU by JASSO, and individual consultation
(4) TOEFL Section
Information provision by TOEFLR test administrators, and individual consultation
(5) Consultation Section with Senior International Students
Senior international students provide individual consultation.
(6) Community Safety Information Section (Tokyo only)
The Metropolitan Police Department and the Tokyo Metropolitan Government provide everyday security information.
6. Exhibitors
Tokyo: 184 institutions
Osaka: 132 institutions
Click here for the College Guidance Fairs for International Students special website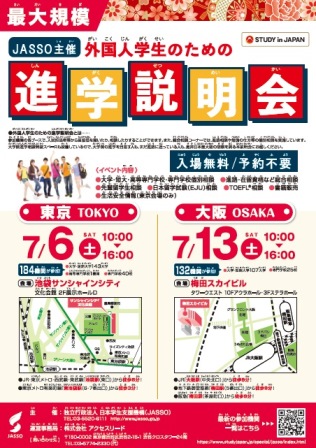 Contact Us
Information Services Division, Student Exchange Department
E-mail:infoja【@】jasso.go.jp
* Please convert "at mark" to @ when you send an e-mail to us.