Myanmar Association of Japan Alumni (MAJA)
Myanmar Association of Japan Alumni (MAJA)
MAJA (Myanmar Association of Japan Alumni) was established on 10 December 2001, the National Day of the Union of Myanmar, with 49 founding members. Most of them were our patrons who studied in Japan during the Second World War years of 1943-1945.
Though official organisation was not formed over the years before the establishment of MAJA, former Japan Alumni had been quite active, sending trainees to Japan and neighbouring countries under Association for Overseas Technical Scholarship (AOTS) programme. MAJA was officially recognised by the Ministry of Home Affairs of the Union of Myanmar on 28 February, 2002.
Since then, the membership has increased and the content of activities has widened. In November 2009, MAJA hosted for the first time ASEAN Council of Japan Alumni (ASCOJA) Conference in Yangon, Myanmar.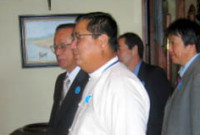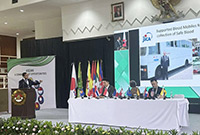 Activities
MAJA conducts Examination for Japanese Universities for International Students (EJU) twice a year.
MAJA administers Japanese Language Proficiency Test in cooperation with the Embassy of Japan in December, every year.
MAJA organises Japan Education Seminar once a year, in cooperation with officials of Japan Student Services Organization (JASSO) coming to Myanmar to conduct the Seminar.
MAJA organizes Japanese Cultural Show once a year for Myanmar audience.
MAJA organizes an occasion for paying respect to the Patrons of MAJA once a year, in accordance with the Buddhist tradition.
MAJA conducts Japanese Speech Contest and Translation Test (Japanese Language to Myanmar Language) once a year in cooperation with the Embassy of Japan.
MAJA holds an Executive Committee meeting once a month and also Emergency meetings whenever necessary.
MAJA interviews and selects Middle School students (three male and three female students) every year to be sent to Toyota City, Japan, for homestay and educational tour.
MAJA selects of Post-graduate students for Asia Japan Alumni (ASJA) International every year, to be sent for a Master's degree Courses in Japanese Universities.
MAJA publishes of quarterly Newsletter, in Myanmar, Japanese and English Languages.