Flow Chart
Where should I start?

Let's make your STUDY in JAPAN plan
TIPS: Schedule
Have you planned your studies in Japan plan yet?
Next, let's look at the following general timetable and see what sort of preparations you'll have to make.
From planning to enrollment - what to do
If you are only interested in studying the Japanese language

If you want to enter university or a professional training college after studying the Japanese language

If you want to enter a university or professional training college in Japan directly from your own country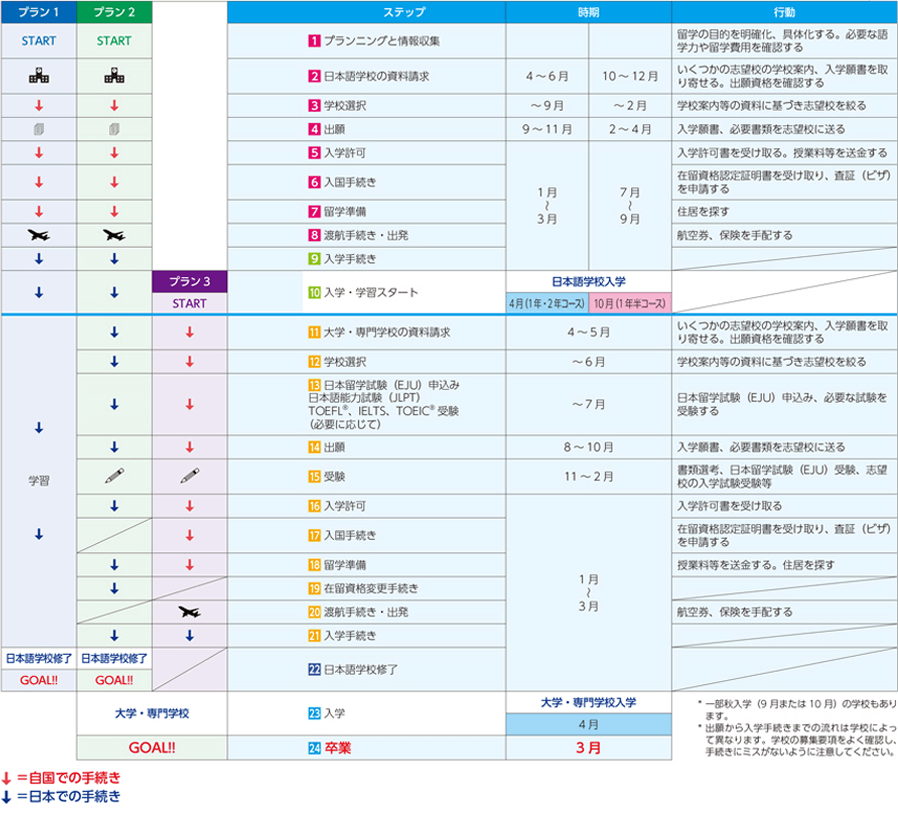 Use of Study Abroad Broker
There are many advantages to doing the study abroad process on your own: it is economical, it gives you the ability to make your own decisions, and it helps you improve your language skills.
If you are busy or concerned about your language skills, one option is to use a study abroad broker, but some companies charge excessive fees or provide misinformation.
Please consider carefully when using a study abroad broker.
Points When Choosing a Study Abroad Broker
1. Fees
・ Are the prices reasonable after comparing multiple brokers?
2. Support
・ Will they recommend a school that meets your study abroad objective?
・ Do they recommend that you enter Japan using forged documents?
・ Do they provide satisfactory answers to your questions and procedure progress?
・ Do they want to rush the application unilaterally?
・ Do they explain not only the good points of studying abroad, but also the hardships?
3. Results
・ Do they have a sufficient track record of sending students to Japan?