Japanese Educational System
In Japan, the higher education starts upon the completion of 12 years of education: elementary education (6 years of elementary school) and secondary education (3 years of lower secondary school and 3 years of upper secondary school). There are 5 types of higher education institutions where international students can be admitted to, which are 1) Colleges of technology, 2) Professional training colleges (postsecondary course of specialized training colleges), 3) Junior colleges, 4) Universities (undergraduate) and 5) Graduate schools. Depending on the founding bodies, these higher education institutions are categorized into three types: national, local public and private.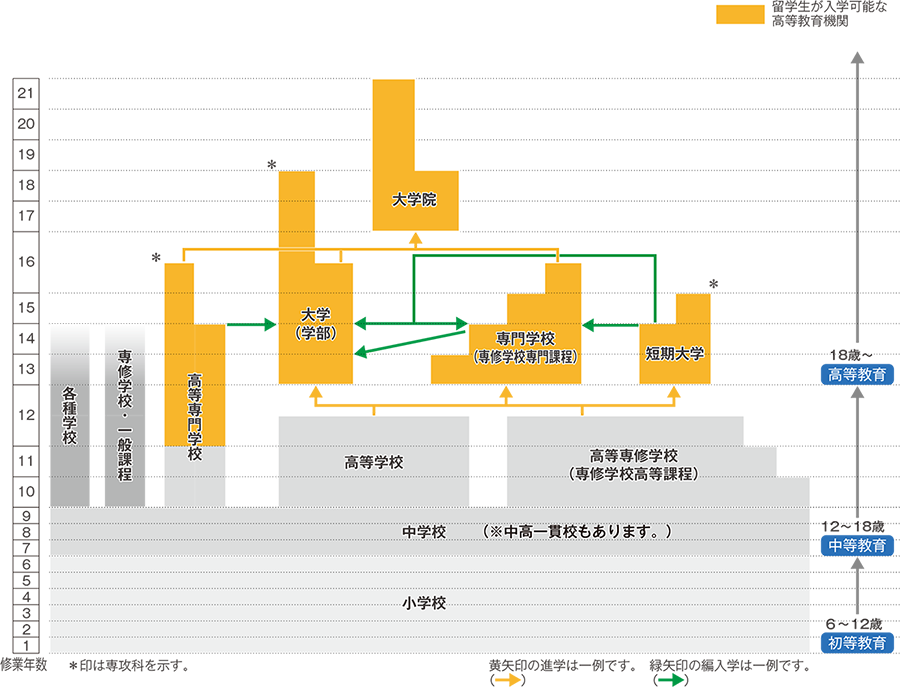 After completing your major in a junior college or college of technology recognized by the National Institution for Academic Degrees and University Evaluation (NIAD-UE), you can obtain your "bachelor's degree" if you pass the examination set by the NIAD-UE. Please check further details from the school you are applying in.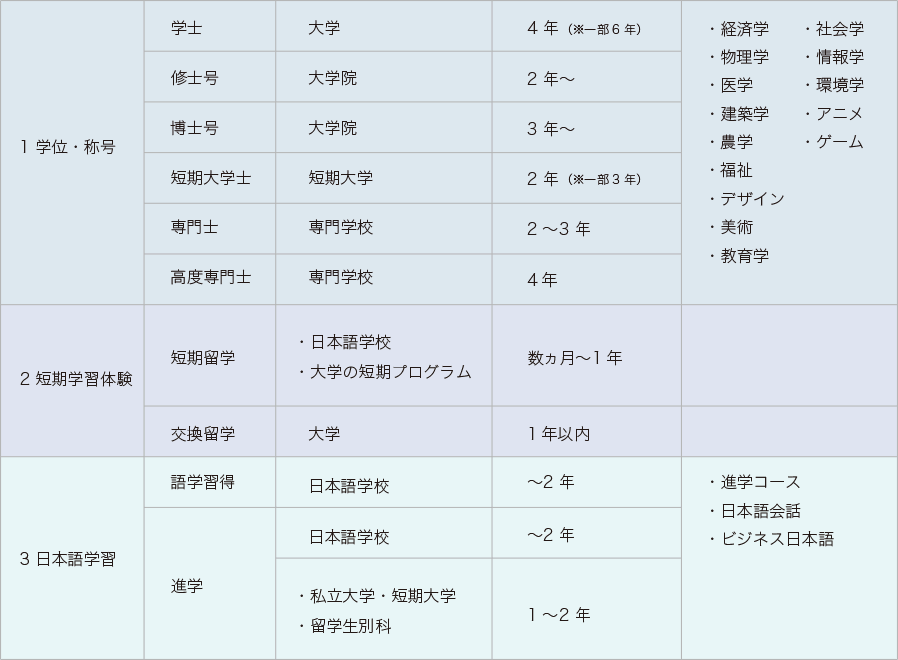 Most higher educational institutions in Japan set its academic year from April to March of the following year. Many of higher educational institutions adopt the semester system.

Most of the educational institutions in Japan start their academic year in April. There are some institutions which start academic year in autumn.

Number of higher education institutions
National
Local public
Private
Total
Colleges of technology
51
3
3
57
Proffesional training colleges
9
189
2,962
3,160
Junior colleges
-
17
314
331
Universities
(Undergraduate)
86
93
603
782
Graduate schools
86
83
467
636
Data from the 2018 School Basic Survey by the Ministry of Education, Culture, Sports, Science and Technology
※ The Open University of Japan is categorized as a private university.