Graduate Schools
Although degree programs at Japanese universities are normally conducted in Japanese, the globalization of higher education institutions has led to many universities, and graduate schools in particular, offering degree programs taught completely in English.
Additionally, there are also schools that offer fall admission (in September or October) in addition to spring admission in April.
In recent years, specialized graduate schools such as law schools and teacher preparation schools offering various fields of study have emerged.
Research students who are not aiming to earn a degree can also enroll, so students can choose their school and study abroad type based on the goal they wish to achieve.
Characteristics of Japanese Graduate Schools
In Japan, there are national, public, and private graduate schools. Currently, there are 86 national, 89 public, and 482 private schools.
Including the admission and tuition fees, the total cost of the first year is approximately 820,000 yen for national universities, 900,000 yen for public universities, and 1,100,000 yen for private universities (excluding medical, dental, and pharmaceutical programs).
The tuition for graduate schools in the United States amounts to 1,600,000-3,500,000 yen (using the calculation 1 USD = 130 yen), and British universities charge approximately 1,800,000-4,500,000 yen per academic year (using the calculation 1 GBP = 150 yen), so comparatively speaking, the tuition for Japanese universities is much cheaper.
Master's programs generally last 2 years, while doctoral programs take approximately 5 years to complete. Depending on the school, the doctoral program may include the 2-year master's program as the "first half of the doctoral program," with the last 3 years being the "last half of the doctoral program." 6-year-long medical, dental and veterinary bachelor's programs and 6-year pharmaceutical bachelor's programs do not include a master's program, whereas their PhD program takes 4 years to complete.
Although most graduate school programs in Japan are taught entirely in Japanese, there are also new programs emerging which are taught entirely in English.
Furthermore, most Japanese schools start their school year in April. However, many universities nowadays are implementing fall admission (in September or October).
Admissions Requirements
In order to be admitted to graduate schools, one of the following conditions must be satisfied:
【For a Master's or the First Half of a Doctoral Program】
Individuals who graduated from a four-year university
Individuals who completed 16 years of formal study in their country
* Medical, dental, pharmaceutical or veterinary students planning to enroll in a doctoral program must have completed at least 18 years of formal education
Individuals who completed at least 3 years of study at a foreign university and earned a bachelor's degree
* Medical, dental, pharmaceutical or veterinary students planning to enroll in a doctoral program must have completed at least 5 years of study
Individuals who were awarded a bachelor's degree from the National institution for Academic Degrees and Quality Enhancement of Higher Education
Individuals who completed 16 years of formal education in Japan via an online curriculum offered by a foreign school (18 years for medical, dental, pharmaceutical, or veterinary students)
Individuals completing studies at international schools in Japan officially designated as being equivalent to an overseas university.
Individuals completing specialized coursework at designated professional training colleges.
Individuals who completed their studies at a school under Japan's old education system
Individuals who completed their studies at the National Defense Academy of Japan, Japan Coast Guard Academy, Meteorological College, or another academy or college established by a ministry or agency
Individuals above the age of 22 who was accepted by the university based on the university's individual admission qualifications selection
【For the Second Half of the Doctoral Program】
Individuals who holds a Masters or professional degree
Individuals who holds a foreign degree equivalent to that of a Masters or professional degree
Individuals who earned a Master's or professional degree by completing an online curriculum at an overseas institution while residing in Japan
Individuals completing studies at an international school in Japan designated as being equivalent to an overseas graduate school, earning degrees equivalent to a Master's degree or professional degree.
Individuals who completed their studies at United Nations University and earned a degree equivalent to a Master's degree
Individuals who have obtained a Bachelor's degree or the equivalent and have completed at least 2 years at a university or research institute and possesses the same academic ability as an individual who holds a Master's degree
Individuals aged 24 or above who were accepted by a graduate school based on the school's individual admission qualifications assessment
Find Schools
What would you like to study (what would you like to major in)?
What city would you like to live in? Using the search system below, you can search for schools based on your preferences, such as the field of study or location of the school.
You can search for degree programs taught in English using the system below.
The English scores required for admission to graduate programs taught in English are 75-80 for the TOEFL iBT and 6 for IELTS.
※This data is a result of survey for University & Junior college. As of May 2021.
* For further inquiries and the latest information, please directly consult each university.
Research Proposal Preparation, Finding a Thesis Advisor, Applications, and Entrance Examinations
Creating a Research Proposal
A research proposal is an outline of the topic you plan to research, and how you plan to conduct your research.
Most graduate schools require the submission of a research proposal.
The format and word count differs by school, but it is generally around 2,000 words long.
To write a research proposal, decide on a field you would like to research and find out how much research has been done on that topic, in addition to what subtopics have yet to be researched.
The content of the research proposal includes: (1) purpose of research, (2) background, (3) significance, (4) methods, and (5) references. Your willingness to do research, your ability to identify issues, your analytical and logical thinking skills, as well as your knowledge of your field of specialization will be key points in the screening process.
You can look up research papers here: CiNii Articles (External site)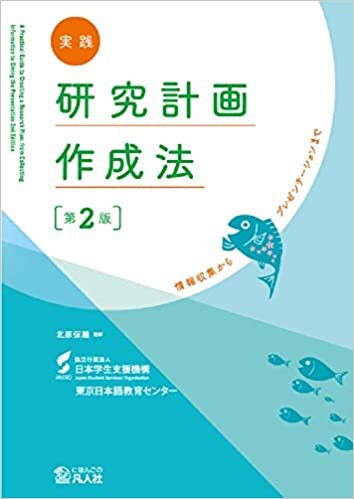 If you would like to learn more about the oral interview or how to write a research proposal, please refer to this guide:              
"How to Write a Research Proposal - A Practical Guide," 2nd ed.
Author: JASSO
Publisher: Bonjinsha Inc. (sold only within Japan)
Note: Available for browsing at Study in Japan Resource Facilities
【Find a Thesis Advisor】
In most cases, you will have to find your own thesis advisor. Depending on the school, you may have to find an advisor and get their approval before applying. You can find out more about thesis advisors from advisors at your own university, Japanese students who studied abroad, by contacting your preferred graduate school, or by looking on the school website.
If you choose to directly contact a professor or the university, be sure to explain your past research achievements and future research plans, as well as your reason for choosing that advisor. It is advisable that you also send in a letter of recommendation from your advisor at your current university or the university you graduated from.
Since the professor at your preferred school will only be able to get to know you from the documents you submit, it is important to maintain contact with them to show them your determination and commitment.
Website where you can search for researchers: researchmap(external site)
【Application Documents】
When applying for regular graduate school programs, bear in mind that some graduate schools allow you to directly apply for the program, while others prefer that you have experience as a "research student."
When applying to a graduate program, in most cases, the following documents must be submitted. For other required documents, please consult the school you are planning to apply to.
Graduate program application form (designated by the graduate school)
University (undergraduate) graduation diploma or certificate of expected graduation (for those applying for a doctoral program, the submission of a graduation diploma or certificate of expected graduation from a master's program is also required)
Transcript from the last school attended
Letter of recommendation
University research/graduation thesis and an abstract
Research proposal
Other
*What is a research student?
A research student belongs to one of the following irregular/nontraditional student categories:
・ Individuals conducting short-term research who do not plan to obtain a degree (mostly graduate level)
・ Individuals participating in a short-term exchange program through an inter-university agreement (undergraduate or graduate)
・ Individuals participating in a university preparatory course as a prerequisite for enrollment in a graduate program (mostly individuals who completed their undergraduate studies)
Selection process: The selection process usually involves an assessment of application documents, but an interview may also be required.
Status of residence: Auditing students who are auditing all of their classes (not enrolled) must attend at least 10 hours of class per week in order to qualify for the "Student" status of residence. Research students who are not taking classes and are not receiving compensation for their research must have a "Cultural Activities" status of residence.
【Entrance Examination】
The selection process for graduate school admission is often a combination of an assessment of application documents, an academic skills test, an interview, an essay, and an oral examination. The selection process differs by school, so it is necessary to check each school's website for the admission requirements.
Professional Graduate School
Professional graduate schools help students develop as highly skilled specialists in their field so that they can contribute to the scientific innovation as well as the globalization of society and the economy.
There are professional graduate schools for various fields such as law (law school), teaching (teacher preparation school), accounting, business/MOT (technology management), public policy, and public health.